On behalf of our property owners and residents, the Management Committee invites you to join us on a virtual visit to our beautiful community.
We want to share our way of life, the things we love about our community and what makes it special. Marbella Sierra Blanca is well famous for its location, its quality and the peaceful setting it enjoys on the mountainside, overlooking the Mediterranean Sea.
You will find here all you want to know about us, about Marbella and about Andalucía, our provincial region in the south of Spain. You will also find useful information, leads and tips we have gathered after actually living here, and contact links to service providers we use and recommend.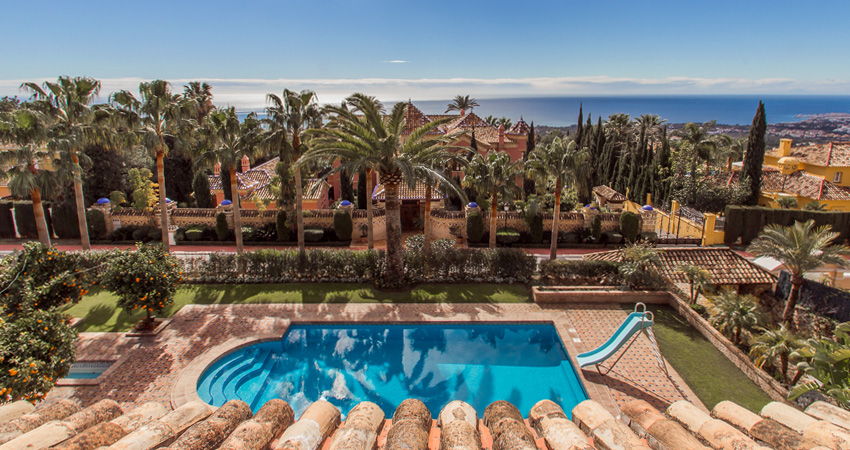 MARBELLA SIERRA BLANCA URBANIZATION
Nestled between the foothills of the "La Concha" mountain and overlooking the Mediterranean Sea, the Marbella Sierra Blanca Urbanization holds a privileged position in the famous Costa del Sol of Spain. Marbella, our hometown, with its microclimate and unbeatable weather, offers our community residents summertime throughout the year.
Some of the most exclusive properties in Marbella lie within the secured boundaries of our urbanization. You will find private villas of the highest quality in a variety of styles from Moorish, Modern to typical Andalucía style. All these are unique homes whose owners treasure comfort, exclusivity, privacy and security.
With spectacular views of the Mediterranean Sea, the African coast and the Strait of Gibraltar Marbella Sierra Blanca enjoys close proximity to the beaches, as well as to the beautiful old town of Marbella with its many shops and restaurants. We are also only minutes away from the famous Puerto Banus and its high-end luxury shops. Meanwhile, in our backyard there are many mountain trails for hiking in the foothills of "La Concha" mountain, the "backdrop" of our urbanization and a focal point for Marbella.
We are also within easy access to Malaga Airport and Gibraltar Airport, as well as to the high-speed train service to Madrid and other cities in Spain. If you like sightseeing by car, the scenic Andalucía Mountains hold a treasure of charming villages, each with its own character and within easy reach, boasting country restaurants run by locals, and offering delicious traditional Spanish homemade dishes.
Our owners and residents enjoy a well-run community with a Management Committee whose members all reside within Marbella Sierra Blanca. Ours is a community where families can enjoy an exclusive style of living and an extremely safe environment.